Welcome to the Hearsum Collection
Our charity collects and preserves the unique heritage of Richmond Park, the largest of London's Royal Parks, for all to enjoy.
We have a diverse range of heritage material covering the last four centuries, with some 5000 items including antique prints, paintings, maps, postcards, photographs, documents, books and press cuttings. These are being catalogued by volunteers from the Friends of Richmond Park.
The Collection, currently stored in unsatisfactory accommodation in Pembroke Lodge in Richmond Park, is overseen by volunteers and a small number of staff. Plans are well advanced for a new purpose-built heritage centre to provide full public access to the Collection.
Our latest video features Sir David Attenborough
To learn more about the Collection and our plans for the future please watch our video on The Hearsum Collection.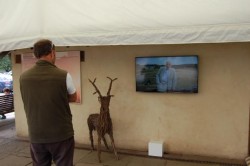 In our latest video, featuring Sir David Attenborough, you can learn about the wild deer in Richmond Park.
My favourite object in the Collection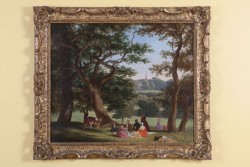 Find out how one of the Collection's paintings, with links to Ham House, particularly caught the eye of a Friends of Richmond Park History Project volunteer.
Why was a deer park created in Richmond?
A 17th century map in the Collection tells the story.
Our Deer in the City project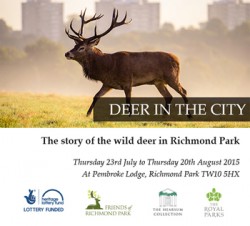 As part of our project Deer in the City, supported by the Heritage Lottery Fund, we ran a programme of free activities, related to deer, for members of the public in July and August 2015. These included heritage walks led by volunteers from the Friends of Richmond Park, talks by local experts and hands-on workshops for children and families.
The project aimed to share the history of the deer in Richmond Park and to highlight the importance of protecting the park's unique landscape. A pop-up heritage pavilion was set up outside the entrance to Pembroke Lodge as a venue for the workshops and to provide information about the project. We are very pleased at the level of interest shown in the project and we would like to thank everyone who visited our pavilion, those who took part in the activities, and the many volunteers who helped to make the project happen.
As the project was time-limited, the activities, which were very popular, have now come to an end. However, the free exhibition on the Deer in the City in the entrance hall of Pembroke Lodge remains open.
To learn more about the wild deer in Richmond Park you can also watch our video featuring Sir David Attenborough.