Nobel prize-winner Bertrand Russell was a significant figure in the history of philosophy and politics who spent most of his childhood at Pembroke Lodge in Richmond Park. Bertrand, who became the 3rd Earl Russell, was born into one of Britain's leading Whig families. His paternal grandfather, Lord John Russell, was Prime Minister in the 1840s and 1860s, and had been granted use of Pembroke Lodge as a residence by Queen Victoria. Following the death of both his parents, at the age of four young Bertrand came to live at the Lodge, to be brought up by his grandparents.
Bertrand recalls in his autobiography that when he arrived in 1876 he was 'placed upon the high stool for tea'. The Hearsum Collection has a number of items on loan from the Russell family from this era, including that high stool.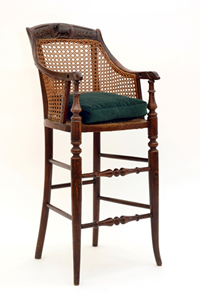 Like visitors today, Bertrand enjoyed the gardens and elevated location of Pembroke Lodge, noting that 'I grew accustomed to wide horizons and to an unimpeded view of the sunset. I have never since been able to live happily without both'.
Nevertheless it was a strict upbringing, not least because Bertrand's grandmother, Lady Russell, was a woman of strong Victorian views, despising comfort and imposing a vigorous daily routine for Bertrand which required that 'the day begin with a cold bath all the year round, followed by half an hour's piano practice, before family prayers at eight'.
Bertrand's time at Pembroke Lodge ended in 1890 when he left to go to Cambridge University, and then went on to become a leading philosopher, logician, mathematician, historian, writer, social critic and political activist. Considered to be one of the founders of analytic philosophy, he went to prison for his pacifism during the First World War, and later in his life was awarded the Nobel Prize in Literature 'in recognition of his varied and significant writings in which he champions humanitarian ideals and freedom of thought'.
Sources:
The Autobiography of Bertrand Russell 1872-1914, George Allen and Unwin Ltd, 1967
Ronald W. Clark: The Life of Bertrand Russell, Jonathan Cape, 1975