The open spaces of Hyde Park have hosted a wide range of large-scale events, from concerts and Olympic sports to rallies and protest marches. Military events have been held in the Park for more than 400 years; Elizabeth I is known to have reviewed her troops there, on the open, level area in the north east of the park, which is still known as the parade ground.
These two images in The Hearsum Collection depict military reviews by later monarchs and show the huge scale, and action and excitement, of such events.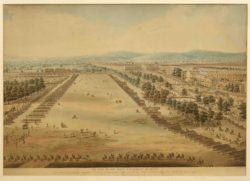 His Majesty reviewing the Volunteer Corps, Hyde Park, 4 June 1799
Aquatint by R Earlom after R Smirke, 1801
Collection no. H1029
15,000 troops paraded in Hyde Park on 4th June 1799, in front of King George III. These were all volunteer soldiers (a sort of "Dad's Army"), recruited during a period of war with France when there was great fear of invasion. The review was held in honour of the King's 61st birthday but was also a calculated show of military strength.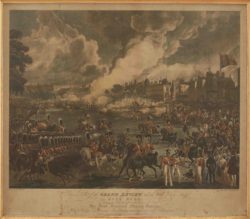 Grand Review, Hyde Park, 9th July 1838
Engraved by W Summers after W Heath, c1838
Collection no. H1454
The second image is filled with action, depicting galloping horses and gun smoke. This review, involving 5000 men, took place on 9th July 1838 and was overseen by the Duke of Wellington. It was the last of the festivities held to celebrate the coronation of Queen Victoria, which had taken place on 28th June. The Queen is shown sitting in the royal carriage, in the middle ground to the right.