Turn left as you enter the main gates of Pembroke Lodge gardens, look on the grassy slopes, and you will discover a headstone for a dog. "Boy", who died in 1907, was for 13 years "a faithful and loving friend "to "GED". We don't know what breed of dog he was, but we do know that "GED" was Georgina (sometimes called Georgiana) Ward, Countess of Dudley, the next tenant at Pembroke Lodge after Lord John Russell and his family.
Lady Dudley, a Scottish baronet's daughter, and the great-great grandmother of Rachel Ward, who is acclaimed in Australia as an actress and film director, was granted the Lodge as a "grace and favour" residence by Edward VII. She lived at the Lodge from 1903 and died there in 1929 at the age of 82.
A noted society beauty, at 19 she married William Ward, 1st Earl of Dudley, who was 29 years older, and spent over half her life as a widow. According to her obituary in the Glasgow Herald, a copy of which is in the Hearsum Collection, she took little interest in politics but corresponded with many of the crowned heads of Europe, including the German emperor. Herbert von Bismarck was one of her suitors after her husband's death, but she never remarried.
LADY DUDLEY IN THE FIRST WORLD WAR
A letter in the Collection dated 2 November 1915, from the Government's Office of Works, refers to the proposed South African Military Hospital, built the following year near the newly-erected Cambrian Gate. The letter says this new site was preferable, given the possibility of criticism from Lady Dudley, to previous plans to build the hospital only 500 yards from Pembroke Lodge.
Lady Dudley's supposed sensitivities seem surprising given that she served with the Red Cross during the Boer War and the First World War and had been involved in running a nursing home in Mayfair for disabled officers. But we have no reason to think she was aware of the letter and, as Gerald, the youngest of her six sons, was killed in action in October 1914, it may have been thought that being able to see the hospital would evoke painful memories.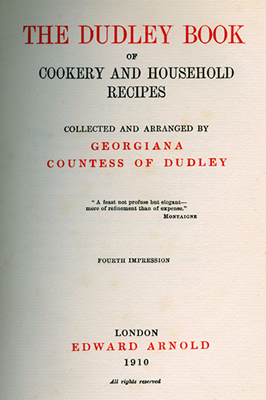 The Hearsum Collection also has two volumes of cookery and household recipes by Lady Dudley, which include "21 ways of cooking venison". One wonders which of her German correspondents had passed on to her the recipes for "German Beefsteak cakes" and "A German Way of Roasting Hare".